Visiting the Algarve will only be complete when you sample some of the best flavours in Portugal as well as the centuries of history you can find here. Our Family of Restaurants offer the perfect blend of what a superb dining experience should be: memorable, great fun and full of flavours.
A beautiful and quaint property where you can sample our delicious 'Tapas & Petiscos' whilst enjoying the most peaceful views of the unspoilt countryside hills.
Located close to Vale do Lobo's main entrance, at Monica's you can enjoy the finest delicacies and a tremendous menu crafted by our talented Chef João Duarte.  
Churrasqueira A Villa presents a menu with many specialties straight from the grill, ranging from the countryside Chicken Piri-Piri to many traditional Portuguese dishes.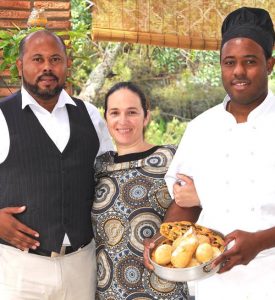 Hello, Welcome to Monica's. We are Luis, Monica & João!!!
Our restaurants represent our vision of what dining out should be, great welcome from genuinely happy people, who enjoy serving you, relaxed & smart casual atmosphere, comfortable & cosy seating, great choice of drinks to pair your wishes & the most fantastic, real & tasty food made with passion & talent for your enjoyment!  
Being from just down the road, all our restaurants are located in places we know from our childhood, hold very close to our hearts & wish to see it at its Best!
We are very passionate about service, food & our most precious sunny Algarve and therefore we always try to use mostly locally sourced ingredients to offer you the Best & still helping to contribute to the development, support and survival of our smaller family businesses… We find this brings us better quality products for your enjoyment as well as a great feeling of helping others too.
Our favourite dress code is very relaxed and we love a good smile, so come barefoot or 'black tie', we'll be there to look after you!! So, do come visit us in Vale do Lobo for our exciting international cuisine & in Salir for a taste of the real countryside Algarve.
With Love,
Luis, Monica & João